In celebration of its 1-year anniversary, South Bend-based marketing company DOJO Creative is doubling in size with two new employees. DOJO is proud to introduce two new members of the team: Ryan Bronkema, Programmer; and Brenton Abram-Copenhaver, Project Manager and Copywriter.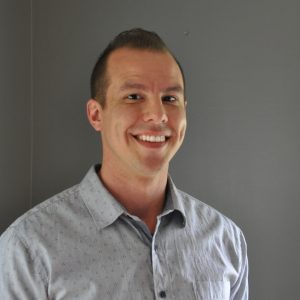 Ryan Bronkema, Programmer
Dojo Creative is excited to welcome Ryan Bronkema, DOJO's new Programmer. As a Programmer, Ryan is responsible for building out the website infrastructure–the user interface (UI) and user experience (UX). In this role, Ryan supports the design, in building a targeted web presence and dynamic marketing initiative.
In 2017, Ryan started his programming career as a freelancer while working as a medical technologist. While working in healthcare, Ryans passion for computer programming brought about certifications in Responsive Web Design, JavaScript Algorithms, Data Structures, and Front End Libraries. His websites are known for tasteful animations, smart color palettes, and intuitive ease-of-use.
When he isn't obsessing over web code, you'll find Ryan playing games with his wife Maggie and son Finn, pretending to look busy at the gym, or taking on a DIY home project.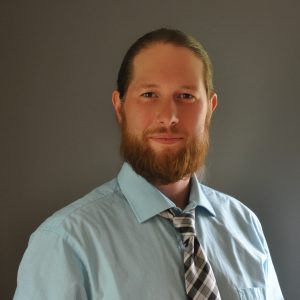 Brenton Abram-Copenhaver, Copywriter & Project Manager
DOJO welcomes Brenton Abram-Copenhaver to the team as Copywriter and Project Manager. As Copywriter, Brenton is responsible for creating the text content in print projects, website pages, and blog article publications. In addition to creating written content, Brenton is responsible for implementing Search Engine Optimization (SEO) best practice on all digital verbiage.
As Project Manager, Brenton is responsible for spearheading communications and project workflow. The position supports all other departments through organizing, documenting and editing web content.
Before Dojo, Brenton worked as an SEO white label content writer for several digital marketing agencies. He has authored digital and print content for hundreds of clients, as well as been published in Edible Michiana Magazine.
Brenton holds a Bachelors of Fine Arts in Acting from The Theater School at DePaul University in Chicago. When he is off the clock, Brenton enjoys spending time with family and friends, playing speed chess, and listening to talk radio.
DOJO Creative was started a year ago by Doug Elder and Josh Harmon, who worked together at a previous agency. DOJO is excited to help your business stand out of the crowd with the help of its two outstanding new employees. In adding a programmer and project manager to the team, Dojo can provide more efficient and effective marketing services to the community.
Dojo Creative is a Web, Print, Branding and Digital Marketing agency. It specializes in building performant, user-friendly and technically sound websites that drive leads and sales. Dojo offers cutting edge design, custom web development, and innovative solutions to modern marketing. It provides full-service email marketing, Search Engine Optimization, and PPC campaigns. In partnership with New Group Media, Dojo is a one-stop-shop for broadcast marketing, including radio, commercial, and network TV. Don't blend in – stand out with Dojo Creative!
If you would like more information, please call Doug Elder at 574-276-4998, or email doug@letsgodojo.com.